Luna Ink opened its doors in Newport in 2017 having originally been based in Sweden. The studio is owned and run by Jonki, she was later joined by Paul as the studio expanded. Each of Luna Ink's artist have their own style and put it to use designing custom tattoos for their clients. They welcome guest spot artists with at least 7 years' experience who are proficient at Neo-traditional and Trash Polka tattoos.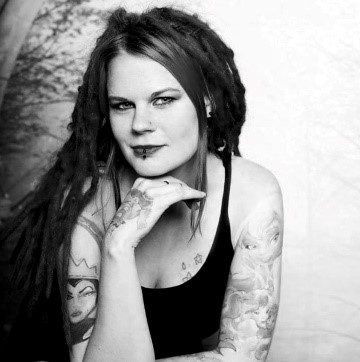 Jonki began tattooing in 2013 and has since worked in Sweden, the Caribbean, the USA, London and now Newport. During her education in Colorado, USA, she attended a dinner with the artists of Tattoo Nightmare. In 2019 she was invited to train with the world's top artists, spending four days at the Venice Interactive Tattoo Seminar in Italy. Jonki is a multi-talented artist but she specialises in colour! She loves geeky tattoos, enjoying designing anything from Disney to Marvel. She prefers cartoon and colour realism.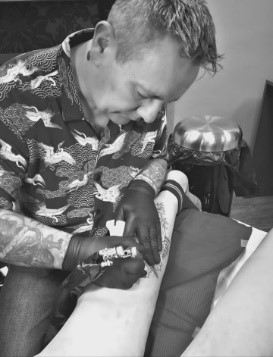 Paul joined Luna Ink in 2019, with over 23 years' experience he is a great asset to the team. He was originally based in Bristol but since then he has worked in Western-Super-Mare, Gloucester, Canterbury and many more locations throughout the UK! During his career he has owned two studios of his own. With a wealth of experience and a real passion for art, he can turn his hand to just about anything. He prefers working with black and grey and enjoys realism work. He is an amazing cover-up artist, helping clients revitalise or cover their old tattoos.
Luna Ink tattoo studio is in a prime location in Newport, South Wales. This bustling city is nestled among the countryside with Cardiff just a short trip away, it has excellent transport links to major cities such as London and Birmingham. Newport is a great spot to discover South Wales from, whether you want to explore the Brecon Beacons, visit the beaches that dot the south coast of Wales or discover the capital!
Newport city itself is steeped in history, from the roman remains that date back to 75 AD to the transporter bridge, a mark of the city's industrial heritage. If history isn't your thing then there's still plenty to do with shops, pubs and restaurants dotted throughout the city. Visit in the warmer months and enjoy the parks, take a stroll along the sea wall and discover the Wetlands nature reserve.
Get more of a feel for Luna Ink Tattoo Studio on their social media: